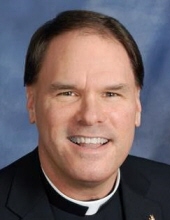 Obituary for Monsignor Gregory K. Ketcham
Rev. Monsignor Gregory Keith Ketcham, 50, of Bloomington, passed to eternal life in the Resurrection of Jesus, at 2:25 AM, Thursday, February 8, at his home, surrounded by family. Although he has lost his battle with brain cancer, he has won his joyous passage to heaven for which he so faithfully fought.

His funeral Mass will be celebrated at 11:00 AM, Monday, February 12, at St. Patrick Church of Merna, Bloomington, officiated by the Most Reverend Bishop Daniel R. Jenky, C.S.C. Open viewing will be from 1:00 PM to 7:00 PM on Sunday, February 11, at St. Patrick Church of Merna. The family will be present from 4:00 PM to 7:00 PM. At 7:00 PM a rosary will be led by Fr. James Seitz at the church. The body of Msgr. Ketcham will lie in state at St. Patrick Church of Merna throughout Sunday night with parishioners and members of the Knights of Columbus present. Those who wish to pray privately are welcome to visit the church during those hours as well. Visitation will also be held from 9:00 AM until 10:45 AM Monday, prior to the Mass. A luncheon at Shamrock Hall will follow.

Additional visitation will be from 9 to 11 a.m. Tuesday at Saints Peter and Paul Catholic Church, Nauvoo, with the funeral procession traveling from Nauvoo to Hamilton along the Great River Road, for the graveside service at Oakwood Cemetery, Hamilton. A memorial Mass in Father Greg's honor will be at noon Tuesday at St. Mary's Catholic Church, Hamilton. A luncheon will follow at the parish hall.

Father Greg was born on February 14, 1967, in Keokuk, Iowa, the youngest child of Keith H. and Norma Jean Wilkens Ketcham. His survivors include three sisters, Kay (Steve) Luft of Olathe, KS, Clarisse (Dr. Jonathan) Slater of Bloomington, and Colleen Varner of Hamilton; one brother, Dr. Jeffrey (Annette) Ketcham, Peoria; nine nieces and nephews, Clayton and Brett Varner, Stephanie (Jon) Novacek, Sean (Amy) Luft, Wesley (Meridel) Ketcham, Amy (Greg) Sanderson, Jeffrey, Camille, and Anna Slater (fiancé Aaron Kinskey); and fifteen great nieces and nephews. They will cherish the memories of their brother, uncle, great-uncle, and family priest in their hearts forever. Father Greg leaves behind many beloved parishioners, fellow priests, religious sisters and friends who have enriched his life in each of his communities. A lifelong St. Louis Cardinal fan, Fr. Greg was even known to ask parishioners to pray for his beloved Cardinals.

He was preceded in death by his parents and one niece in infancy, Collette Varner.

Father Greg was ordained as a Catholic priest of the Diocese of Peoria on May 28, 1994. His first assignment was as Parochial Vicar at Immaculate Conception Catholic Church in Monmouth, St. Patrick's Church in Raritan, and St. Andrew's in Oquawka. He became Diocesan Director of Rural Life in 1995. Fr. Greg was Pastor of Saints Peter & Paul Church in Nauvoo and Sacred Heart Church in Dallas City (1997). He became Pastor of St. Philomena Catholic Church, Peoria, in 2003. Fr. Greg was assigned as Chaplain of St. John Chapel and director of the Newman Foundation in Champaign (2006). He was appointed Chaplain to His Holiness by Pope Benedict XVI (2009). He also enjoyed his position as Chaplain of the Illini football team during his service there. In 2014, Fr. Greg became Pastor of St. Patrick Church of Merna in Bloomington and St. Mary's Church in Downs. In April of 2017, Fr. Greg became Pastor Emeritus of these parishes.

His family wishes to thank those who have supported Fr. Greg and his family with loving care, prayers, and friendship in the last several months and years especially.

In lieu of flowers, memorials may be directed to St. Patrick Church of Merna, Bloomington or to the St. John's Catholic Newman Center in Champaign for a scholarship fund to be established in his name.

Jesus Reigns.
Previous Events
Visitation
St. Patrick Church of Merna
1001 N. Towanda Barnes Rd.
Bloomington, Illinois 61705
Service
St. Patrick Church of Merna
1001 N. Towanda Barnes Rd.
Bloomington, Illinois 61705