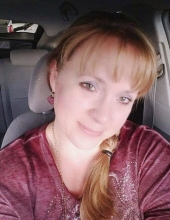 Obituary for Kristin Karin Johnson
Kristin Karin Johnson (Krissie) passed away unexpectedly, but peacefully, Wednesday, August 21, 2019 at her home in Bloomington-Normal, IL.

Krissie was loving, lovely, light-hearted, generous, compassionate, and consoling to those in any sort of need. Her family and friends knew these things to be true about Krissie. Above all, Krissie loved her children, Gavin and Alexis, and had a deep commitment to their welfare and happiness. She loved her father, Ron, her mothers, Sandy and Deb. She loved her sister Jenny, her aunts, uncles, cousins, and perhaps mostly her Aunt Cookie, a kindred spirit. She had a very large family that she loved: those on her mother's side, those on her dad's side, and those related to the father of her children, Lamont. She loved her friends and colleagues at State Farm where she worked for many years. She loved everyone that she knew. Krissie also loved many elements of God's universe like the ocean, the sun, animals large and small.
She loved art, particularly Monet. She loved to think, feel, read, work, learn, teach, play, and pray. And, as Gavin so fondly remembers, they loved going to the Grandpa's cabin every year for the 4th of July where they had the best of times.

Krissie was a person of deep spiritual awareness and trust in God. Hers was a commitment to serve God and humankind in all that she did.

Krissie, like all of us, had her struggles, some physical some relational, some familial, and some personal. Her hardest challenge was living with multiple sclerosis and its many complications, but she did not give in to these sufferings, nor did she give up. She suffers no more. God has welcomed her into the Kingdom with open arms where she has greeted those who have preceded her as she will welcome all of us when see her again.

Krissie was preceded in death by all of her grandparents, her uncle Bill, a number of friends, and several dogs. She is survived by her children, Gavin Lamont Sheridan and Alexis Kaia Sheridan, her sister, Jennifer Johnson, her father, Ronald Johnson, her mother Sandra Johnson, her mother, Deborah Brock, numerous extended family members and friends, and her dog, Finn.

Krissie was born in Council Bluffs, IA on Bastille Day, July 14, 1974. She lives on, in a different way, and we live on in this land with memories and appreciations for what she brought to all of us.

A Celebration Gathering in honor of Kristin Karin "Krissie" Johnson will be at The Prairie Pavilion, Comlara Park (14.1 mi from Bloomington I-39 N) Saturday, September 7, 2019, 10:00 AM.